Full Mouth Reconstruction
The complete mouth rehabilitation
More than just looks, restorative dentistry takes into consideration functional as well as esthetic factors to correct damage over any tooth. A full mouth reconstruction is a large-scale reconstruction of all or most teeth. It is the endeavor to bring all individual parts of your mouth into a healthy, fully-functional, beautiful whole. A reconstruction should be considered before giving up on badly damaged teeth because it offers the possibility of extending their life many more years. We believe all teeth that do not need immediate or proximate extraction should be rehabilitated.
What is Full Mouth Restoration?
Full mouth restoration, or reconstruction, involves a combination of several cosmetic dentistry procedures. Going beyond a "smile makeover," a full mouth restoration is necessary to address problems that affect the health and functionality of your teeth and gums.
The restoration process is customized to meet your individual dental needs – resulting in a beautiful, healthy smile. Our highly skilled dentists conduct an extensive evaluation, including X-rays, digital photographs, models and dental history, to diagnose problems and determine the best course of action. Based on your results, recommended dental treatments may include:
Why us?
For a full mouth restoration, your dentist must integrate experience and interdisciplinary knowledge to create a customized plan that will address all your dental needs and still remain within your budget. A full mouth reconstruction involves considerable work and many hours on the dental chair, but the result will be a beautiful and totally renewed dentition. You need an experienced and talented dentist who can face this challenge. The Costa Rica Dental Team has been working with extensive reconstructions for more than 10 years. We also count with dentists from all specialties that collaborate in this endeavor, all within our office! We also work with an in-house dental lab, which allows us to work under shorter turnaround times. Whereas most clinics take 3-4 weeks, we can generally finish a case in 5 days.
Why not just extract?
Since full mouth restorations are generally costly treatments in the United States and Canada, both patients and dentists have come to believe it is easier and less expensive to simply extract teeth and opt for dentures. However, we will always recommend saving all salvageable teeth for three reasons.
A premature full mouth extraction lower the overall quality of life. This is because dentures are not like teeth. You will not be able to eat or speak how you are currently used to. Also, the absence of tooth roots causes bone resorption, which results in the "sunken" look on mouth and jaw areas, a major cosmetic concern.
You will not "forget" about your teeth once you extract them. The use of removable dentures requires constant attention, cleaning, and adjusting. Fixed implant-supported dentures require more thorough and strict cleaning routines than teeth do, and you will still visit your dentist once or twice a year for revisions and part replacement.
Rehabilitating your teeth in Costa Rica can be the same or even less expensive than a full mouth extraction with fixed or removable dentures.
Candidacy for a full mouth reconstruction
The full mouth reconstruction is recommended to anyone who has had wear or damage on many or most teeth but who can also suffer from
Damaged, chipped, cracked or decaying teeth.
Missing teeth.
Worn teeth due to grinding or clenching.
Severely discolored teeth.
Bite imbalance or chewing impairment.
TMJ disorders or misalignment causing pain or headaches.
Periodontal disease.
Benefits of Full Mouth Restoration
A beautiful smile involves more than just aesthetics. A full mouth restoration not only enhances your appearance, it corrects more serious functionality issues that impact the health of your teeth. Additional benefits include:
Improved overall health.
Elimination of bad breath.
Natural looking, beautiful smile.
Relief from pain and/or discomfort.
Achieve proper teeth alignment to prevent future damage.
Youthful appearance.
Costs of a full mouth reconstruction
The cost of the reconstruction will depend on how moderate or how extensive the damage. It will probably involve work from dentists of different specialties and several appointments. Now, the cost of the total procedure will be the sum of all the procedures you need. These can include root canals, crowns, bridges, dental implants, fillings, or veneers. Reconstructions are highly customized. There are therefore no fixed or "package" prices. If you do find them you might run the risk of paying for more than you actually need. We can provide free estimates before you come to our clinic with recent x-rays and pictures of your teeth sent to our email or WhatsApp.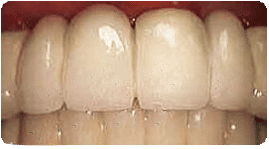 The reconstruction procedure
Meeting
Once you come to our clinic, a dentist will perform a clinical evaluation with diagnostic x-rays. She will also listen to your expectations and wishes.
Evaluation
If there is a possibility of undergoing dental surgery, a 3D CT Scan will be taken to measure bone density and look for possible infections.
Planning
With all the information needed, the dentist will present all treatment alternatives based on your time availability, budget, needs, and expectations.
Let's start!
Once the course of action is decided on, the dentist will start working right away. If you need a specialist, you will have appointments set for the next day or two. All prep work will be finished within the first 48 hours. Final cementation will take place three to four days after the final impressions are sent to the lab.
Welcome back
If you need dental implants you will return 4-5 months after the implant placement in order to allow for Osseo integration. Final impressions will be taken and the final crowns or bridges will be ready 3 or four days later. If you need dentures (fixed or removable) or partials, please allow enough time for several try-ins. On average, there are three try ins before the final processing of the prosthetic.
Check your budget and organize tours
Smile a lot!
Our materials
At the Costa Rica Dental Team, we use high-end materials for all our restorations. For crowns, we use either full-zirconia or full e-max, both of which are metal-free and have excellent esthetic results. For 3 or 4-unit bridges we use full-zirconia due to its high-resistance properties. For full dentures, we work with zirconia hybrid dentures and acrylic. For partial dentures, we use flexi dentures, acrylic or a combination of acrylic and chrome-cobalt.
Enjoy our incredible 10-year warranty.
Get started!
In order to get started in your process, send us pictures or recent x-rays so that we can start getting to know you. With this information we can give you an estimate so you know what to plan for. We can then discuss hotel and transportation possibilities. The next step will be to meet you personally in a dental consultation in which we will determine the best treatment for you and plan your case accordingly. We look forward to helping you in your dental needs!